EVEN MORE JOKES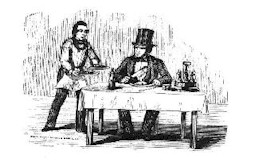 EATING OUT

Customer to Waiter: "Is this Chow Mein fresh?"
Waiter: "But of course, Ma'am. The help loved it last night."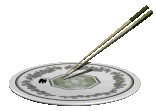 I walked into a local Chinese restaurant the other day where the kid behind the counter, approximately 18 years old, was making spareribs with one hand and holding a lit cigarette with the other.
Now, I'm as enthusiastic for authentic charcoal broiled flavor as the next guy, but this is stretching it a little too far!!
When I asked where the owner was I was told she was off that night.
IMAGINE WHAT YOU DON'T SEE IF THIS IS WHAT YOU DO SEE???
HEY KIDS!
FOR SOME REALLY INTERESTING (AND SUPPOSEDLY TRUE) STORIES ABOUT EATING OUT CHECK OUT MY FAVORITE FOOD SITE

brought to you by my good friend, Food & Restaurant Meister Morris Wong and designed by those wonderful folks at Age of Aquarius Web Graphics