DIETARY DILEMMAS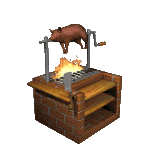 Upon leaving the local synagogue after the traditional 24 hour fast concluding Yom Kippur, the holiest day of the Jewish Year, I noticed an unusual aroma in the air.
There, directly adjacent to the Temple was our local Gentile Bar & Grill having a luau in their parking lot with a 75 LB. Suckling Pig with a 2 LB. apple in its mouth roasting on a spit.
I asked the Chef, "Is that Pig Kosher?"
"But of course! . . . it's the Other White Meat!! You look hungry! Would you care for a little doggy bag?"
"Why thank you," I replied "Could you please cut me off a small pork chop without too much of the Bar B Q Sauce . . . I'm trying to watch my figure. Feel free to stop into Temple next Saturday for some Bagels and Lox and some Honey Cake."

NIGHTMARE AT
30,000 FEET
On a breakfast flight to Miami, the man next to me was presented with a Kosher Tray with a card attached, "prepared especially for Rabbi Kablinsky."
As the plane was filled to its 300 seat capacity, it turns out that as the feeding frenzy, as I like to call it, began, that he did not receive what he ordered weeks in advance, and the 299 people left on the plane got his meal after all . . . and he got. . .
. . . the Bacon and Eggs!
"Rabbi," I said "It's a good thing you called in advance!"

LOVE AND DEVOTION
I have a Jewish friend who runs an unusual household. She happens to be a gourmet cook but for some strange reason it doesn't agree with her Gentile husband's taste buds.
So how did they rectify the problem? She serves him Kosher TV Dinners and they've never had a bad meal in 15 years!
THAT'S THE LAST STORY -- FOR NOW!
THERE'S MORE TO COME !!!
so visit us again soon
In the meantime, let Phil know what you think: send e-mail