DOCTOR DOCTOR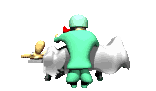 Do you ever wonder why, when you make an appointment with a doctor at least six months in advance you have to wait a least an hour to be first told, "Mr. Kablinsky, please go to Room #7" In Room #7 you have to wait at least another 45 minutes, rarely finding anything vaguely resembling a chair upon which to sit, never mind a magazine. After being told to get undressed, the nurse then tells you that, "The Doctor will be with you shortly."
Sound familiar?
In another half hour, the Nurse comes in and says, "He's coming!" He was out on an Emergency." Then 20 minutes later the Doctor finally shows up with golf balls flying out of all his pockets!

"Thanks for being so patient," he says and, under his breath, "Ha Ha Ha!". And now it's a fast paced version of the old TV show Beat The Clock. But in this case, it's beat the patient out of the room and out of his wallet before he can ask anything that might be time consuming, never mind relevant to his or her immediate health and or well being!
Do what I do regardless of the purpose of your visit. Have it written down prior to your arrival. I'm not kidding. They really love this. If you don't forget anything he can't possibly charge you for another visit, now can he? I'm dead serious . . . I really do this.
They're so fast, they can call the results of an X-Ray before the film is developed, an amazing feat, even by today's standards!
Where did the fine line between compassion for the patient and the three day golfer's weekend dissipate? It's become a sorry state of affairs when some and fortunately few physicians place their own personal pleasure beyond that of the pain and suffering of their patients!